Collagen – Not Just for Women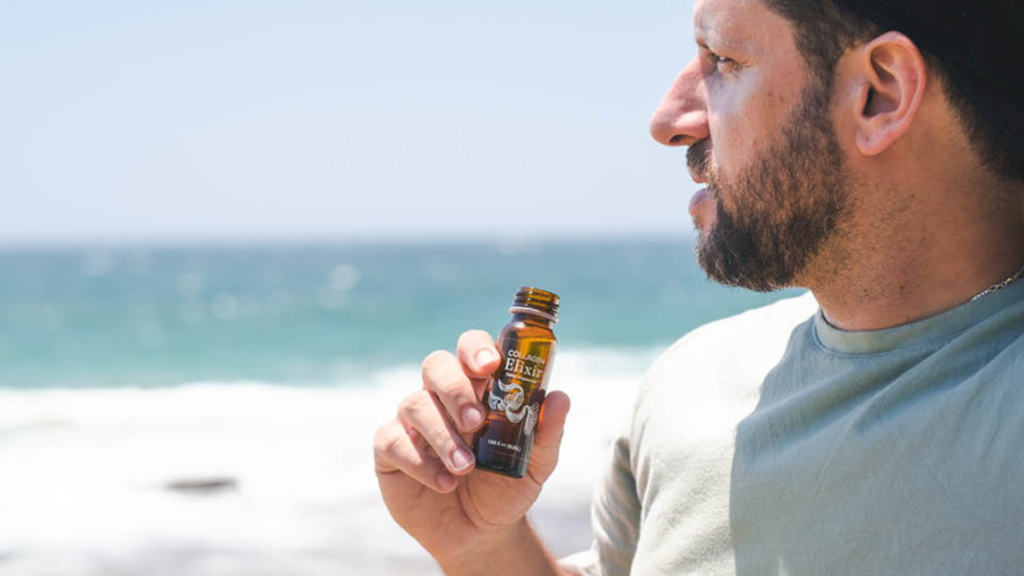 Since the time Cleopatra ruled over her Egyptian dynasty 2000 years ago, women have been consuming or applying concoctions to stave off the aging process and beautify their appearance. Fast forward to the current day and skin conscious women now have a myriad of skin-supportive ingredients – few as "hot" as collagen and collagen peptides.
Collagen makes up approximately one-third of the total protein in the human body and is among the popular "cosmeceuticals" (orally consumed ingredients with skin health benefits) in the marketplace. Indeed, there are hundreds of collagen products available. Now, with Isagenix's Collagen Elixir, Isagenix has created a highly unique, great-tasting beauty shot providing 5 grams collagen and collagen peptides derived from wild-caught, deep-sea fishes. This elixir is the perfect way to incorporate the skin-glowing benefits of collagen into your diet while choosing collagen that is scientifically based, manufactured in a carbon-neutral facility, and transported in oxidation-resistant, 100% recyclable glass bottles. And, it's perfect on a Shake Day or Cleanse Day.
The elixir also contains additional complementary skin-supportive nutrients such as vitamin C, zinc, biotin, and an herbal blend including goji, acerola berry, and aloe vera. These nutrients complement the skin benefits of collagen while providing antioxidant support and an herbal, berry taste.  
But in this era of gender equality, what about men? Can't they derive the same benefits from collagen? Absolutely! 
Collagen for Skin 
The benefits of collagen for skin health are well known. The most abundant type of collagen in skin is Type 1 collagen, which makes up about 80% of the collagen in the skin's dermal layer (deep layer of skin just below the outermost layer known as the epidermis). While studies in males have been fewer, some studies – including men as subjects – have noted clinical and biochemical improvements to their skin. For example, one study reported a dietary supplement containing 5 grams collagen peptides consumed daily for 60 days and up to 12 weeks resulted in a reduction in skin dryness and the appearance of wrinkles while significantly increasing collagen density and skin firmness (1). The authors did not report the precise number of males in the study, and the supplement also contained additional skin-supportive nutrients. Similarly, a double-blind, randomized, placebo-controlled 2017 study by Genovese et al. reported that 90 days of daily consumption of a two-ounce shot containing 5 grams collagen peptides , combined with other skin supportive nutrients significantly increased in skin elasticity and improved texture (2). While the overall benefits were observed with the collagen product, only three men were among the subjects. 
Collagen for Joint Support 
The Type 1 marine collagen found in Collagen Elixir has also been investigated in joint health. Using MRI (magnetic resonance imaging) techniques, McAlidon et al. observed improved cartilage in six males who consumed 10 grams marine collagen for 6-12 months (3).  
Collagen for Supporting your Workout 
Finally, studies have documented the benefits of collagen in optimizing exercise performance or recovery in men. For example, two studies using a patented type II collagen at 15 grams a day noted increased muscle strength and fat-free mass, while reducing muscle loss (4) and improved body composition (5).  
Isagenix Provides Multiple Collagen Sources for your Lifestyle 
Beyond Collagen Elixir, Isagenix offers several targeted solutions rich in collagen or collagen peptides and all these products will benefit men. Examples here include: AMPED™ Repair, containing a patented form of collagen as your post-workout supplement; Collagen Bone Broth as a savory, any time, warm beverage, providing 9 grams collagen and bone broth protein; and Isagenix Joint Support™, with its Type II collagen, formulated to improve joint health.  
References 
Borumand M, Sibilla S. Daily consumption of the collagen supplement Pure Gold Collagen® reduces visible signs of aging. Clin Interv Aging. 2014 Oct 13;9:1747-58. doi: 10.2147/CIA.S65939. Erratum in: Clin Interv Aging. 2020 Feb 04;15:131. PMID: 25342893; PMCID: PMC4206255.
Genovese L, Corbo A, Sibilla S. An Insight into the Changes in Skin Texture and Properties following Dietary Intervention with a Nutricosmeceutical Containing a Blend of Collagen Bioactive Peptides and Antioxidants. Skin Pharmacol Physiol. 2017;30(3):146-158. doi: 10.1159/000464470. Epub 2017 May 20. PMID: 28528342.
McAlindon TE, Nuite M, Krishnan N, Ruthazer R, Price LL, Burstein D, Griffith J, Flechsenhar K. Change in knee osteoarthritis cartilage detected by delayed gadolinium enhanced magnetic resonance imaging following treatment with collagen hydrolysate: a pilot randomized controlled trial. Osteoarthritis Cartilage. 2011 Apr;19(4):399-405. doi: 10.1016/j.joca.2011.01.001. Epub 2011 Jan 18. PMID: 21251991.
Zdzieblik D, Oesser S, Baumstark MW, Gollhofer A, König D. Collagen peptide supplementation in combination with resistance training improves body composition and increases muscle strength in elderly sarcopenic men: a randomised controlled trial. Br J Nutr. 2015 Oct 28;114(8):1237-45. doi: 10.1017/S0007114515002810. Epub 2015 Sep 10. PMID: 26353786; PMCID: PMC4594048.
Kirmse M, Oertzen-Hagemann V, de Marées M, Bloch W, Platen P. Prolonged Collagen Peptide Supplementation and Resistance Exercise Training Affects Body Composition in Recreationally Active Men. Nutrients. 2019 May 23;11(5):1154. doi: 10.3390/nu11051154. PMID: 31126103; PMCID: PMC6566878.